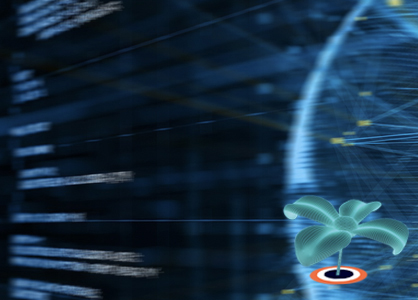 Bringing intelligence into the future and the future into intelligence
Jack Welsh, the CEO of GE, once famously said that "When the rate of change outside exceeds the rate of change inside, the end is in sight." This has never been truer. Even though the concept of intelligence is far from new, its application must be updated to suit a more turbulent, evolving world.
Already working as Market and Competitive Intelligence (MCI) practitioners at Ericsson in the late 90s, we were struck by the lack of focus and structure in the MCI work of many organizations we encountered. Within our telecom industry, the pace of change was at that time probably the fastest of all, yet there was little guidance on MCI so we ended up building our own internal MCI platform, training program, and global analysis network.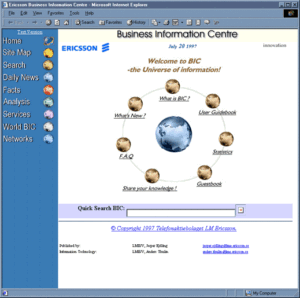 The very first MCI platform at Ericsson in 1997.
We launched Comintelli in 1999, focusing on software for competitive intelligence. Since then, our customers and peers frequently ask for recommendations on MCI literature. We always respond by naming traditional books that usually focus more on analytics and less on processes and support systems.
For many years, we considered writing that sought-after book ourselves, with the lack of time as a barrier—until now. Our book "Gardens of Intelligence" aims to serve as the practical hands-on guidebook we wished we had while building a global MCI operation many years ago. Unlike many others on the topic, this book does not focus on analysis models, research tips, or future forecasts. Rather, this is a pragmatic, hands-on guide to help initiate, develop, implement and maintain MCI operations and platforms in organizations and enterprises.
Market and Competitive Intelligence directly impacts the ability to keep most parts of an organization healthy and competitive.
Our book is therefore both for:
Executives and decision-makers, or the consumers of intelligence. Those who use it to understand their business landscape and anticipate future opportunities and threats.
Intelligence analysts/practitioners, or the producers of intelligence. Those who were assigned the important task to track information and discover actionable insights.
The framework and ideas presented in the book are based both on our own practical experience in the last 25 years and research drawn from over 100 Competitive Intelligence cases. We hope you will enjoy reading it as much as we have enjoyed performing the relevant research over the last 20+ years and now, finally writing it!
With this book, we aim to bring intelligence into the future and the future into intelligence.